Are You Ready To Play
The Best Tennis of Your Life?
Sign up for Jeff's Jeff's Free 10 Minute Mini-Course: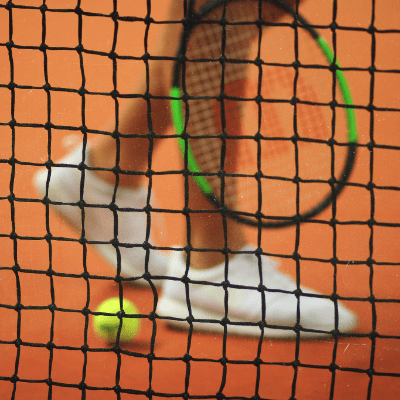 Hi, I'm Jeff Greenwald, I'm a former professional tennis player, clinical therapist specializing in sports and performance psychology, and author of The Best Tennis of Your Life. I was ranked No. 1 in the world in the men's 35 age division and I am a two-time ITF Senior World Champion.
Imagine yourself stepping onto the tennis court for a match, feeling loose, focused, and confident. You know exactly what to do, and nothing can distract or unsettle you. You're fully immersed on the task, playing one point at a time and in total control. That would feel nice, right?

But let's be real, does that describe your typical performance? Can you rely on that level of play every time you step onto the court?

If you're like most tennis players, you have moments of brilliance, but often you feel like you're not playing up to your potential. The gap between how you feel in practice and the nerves you feel in matches is just far too big.
The Truth About Who Is Holding You Back
Here's the hard truth you already know: You're the one holding yourself back from playing your best tennis.

And guess what? It's not your fault. No one ever showed you exactly how to cultivate the right mindset, how to use the right tools and when to use them. And even if they did, it probably didn't stick. Maybe it helped a little for one match, but then you found yourself slipping back into old habits.

You and I both know what the problem is. You get too tight. Your arm tightens up, your feet don't move like they should, and you end up playing it safe, even when you tell yourself to go for it.

The ball keeps landing shorter and shorter. You're stuck on defense, frustrated with yourself. "I'm doing it — not again!" you realize, but you can't figure out how to stop.

How I escaped my self-defeating traps on the court...
Well, I hope you are sick of it. That's what happened to me. I was tired of playing it safe and letting my nerves get the best of me. I wanted to play freely more than just a few times a year.
Then, when I was 28, playing in Germany, something incredible happened...

I had a breakthrough moment...

I stopped guiding the ball on big points. It felt better. I began to LOOSEN up. I stopped overthinking during those crucial points. I relaxed, stayed focused on the point at hand, without getting caught up in the score, or distracted by the feelings in my body. I wasn't thinking as much — almost not at all.

What happened? My shots started landing deeper. They had more pace, but with less effort somehow. I started winning more matches, and the club (Uhlenhorster Tennis Club in Hamburg, Germany) even offered to pay me 1k per match because they didn't expect me to win every single one.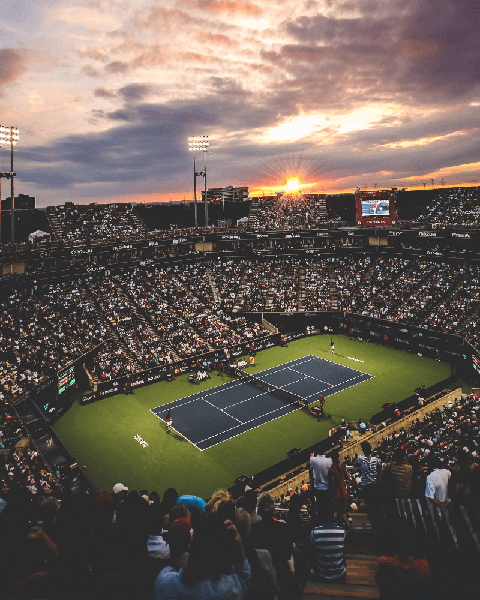 ← Make This...
Feel Like THIS →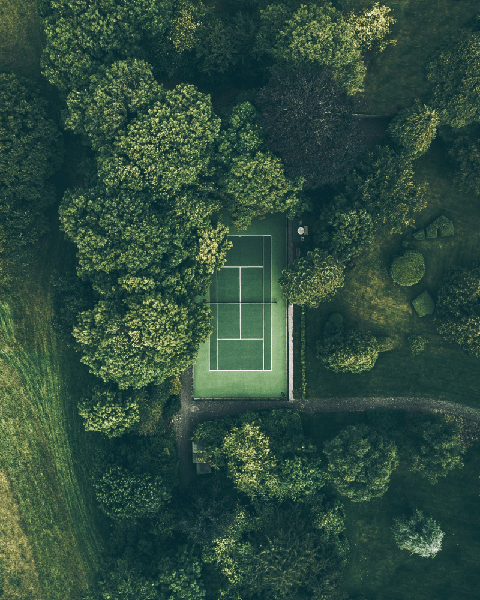 Want to Learn this Technique?
Here's the deal—I'm going to teach you how to find that state for yourself so you can feel like this consistently.
You can sign up for my free 20-minute course where I'll teach you a game-changing technique that could turn everything around for you.
I'm here to help you finally play the best tennis of your life, just like I did. Thanks to this discovery, I've won two World Championship titles and over 12 National Titles in my age group.

There are hundreds of players out there just like you, frustrated that they're not reaching their full potential in tennis. They feel held back by tension and underperform on the court. It's disheartening, and the worst part is, it's only because you haven't learned the right approach when it matters most.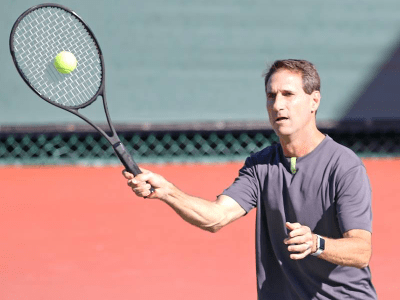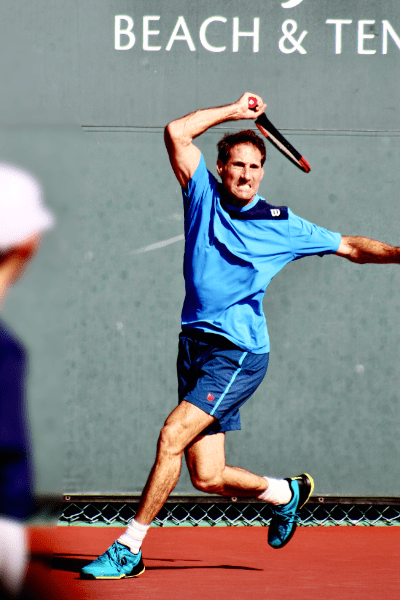 Or dial in playing intense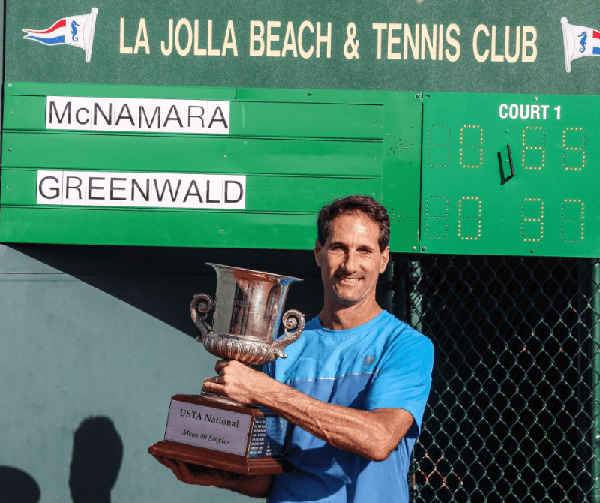 Mastering the dials
=
the secret to winning
You can play the best tennis of your life. Let me teach you how
So, how do you break free and unleash your true potential on the court? How can you finally play your best tennis?

It all starts with a simple but powerful technique that I'll teach you in the mini-course. It's based on mindfulness practices that have been around for thousands of years, but I've tailored it specifically for tennis players like you. Practice it between points, and you'll see a remarkable shift in how you handle mistakes and your thinking process.

Ready to learn the technique that changed everything for me?
Sign up below, and I'll send you a link to the mini-course right away:
In less than 20 minutes I teach you how to make thoughts vanish during high-stakes matches.
Jeff has been featured by: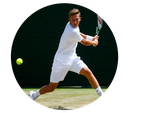 "Jeff's strategies have helped me since I was 10 years old to develop the grit, intensity and the mental approach I need to play at the highest level of the game."
— ALEXIS CANTER
NO. 2 IN GREAT BRITAIN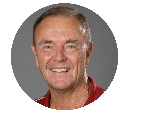 "Jeff has the rare ability to both inspire and teach people how to be their best when it counts. Few in the world of sport psychology have earned and merited such universal respect. "
— DICK GOULD
6 TIME NCAA CHAMPION,
FORMER STANFORD UNIVERSITY COACH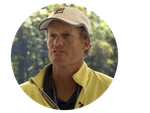 "Jeff's Fearless Tennis system helps players learn difficult mental skills that make the difference between winning and losing."
— WAYNE FERREIRA
FORMER TOP TEN PLAYER ON THE ATP TOUR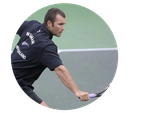 "Jeff Greenwald has introduced proven formulas , which have impacted the kid's thought processes and routines in productive ways on and off the court. These tools will serve the kids well at each stage of development and continually enforce the growth mindset."
— DAN WILLMAN
DIRECTOR OF TENNIS,
NW HIGH PERFORMANCE
Is This Course for You?
My course is for you if:
You're serious about playing the best tennis of your life and you're sick of falling short when it really counts.
You feel held back by tightness, distractions, and underperformance, and you want to break free from these limitations.
You're open to learning a simple yet powerful technique that comes from mindfulness practices and can transform your mindset and boost your performance.
You want to experience a whole new level of mental clarity, focus, and confidence while playing tennis. You want to enjoy the game and take on the challenges and pressure with ease.
You're ready to invest just 20 minutes of your time to discover the secrets of unleashing your true potential on the court.

Participants have described it as amazing, with benefits extending beyond tennis and into other sports as well. Imagine being able to release unwanted thoughts in seconds and experience a new level of mental clarity while playing.

So, are you ready to play fearless tennis? Give yourself the gift of 20 minutes to hear how you can transform your mind and body and finally play on your own terms!


Unlocking your full potential on the court is only a click away...
I want to help you play the best tennis of your LIFE!